So this awesome book hop is hosted by the fantastic people over at
Stuck In Books
, and I get the chance to give away a book that I think is incredible. The book I'm giving away this time is Pushing The Limits by Katie McGarry! So, before you enter the giveaway, I'm going to go over the boring stuff.
1. There are no mandatory entries. They are all optional, but the more you do, the greater your chance is at winning.
2. The giveaway on my blog will go live 12 am May 5th, and end 12 am on May 20th. It is a US ONLY giveaway.
3. I will notify the winner by email within 24 after the giveaway ends. The winner has 48 hours from the time I send the email to respond or another winner will be chosen.
4. I will mail the package out ASAP, but I am not responsible for lost or damaged items
Right, now that that's outta the way, continue on and enter the giveaway. And then don't forget to go and check out
THE LIST
of all the other participants.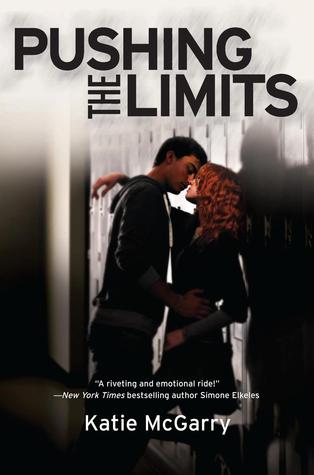 Summary from Goodreads:
"I won't tell anyone, Echo. I promise." Noah tucked a curl behind my ear. It had been so long since someone touched me like he did. Why did it have to be Noah Hutchins? His dark brown eyes shifted to my covered arms. "You didn't do that-did you? It was done to you?" No one ever asked that question. They stared. They whispered. They laughed. But they never asked.

So wrong for each other...and yet so right.

No one knows what happened the night Echo Emerson went from popular girl with jock boyfriend to gossiped-about outsider with "freaky" scars on her arms. Even Echo can't remember the whole truth of that horrible night. All she knows is that she wants everything to go back to normal. But when Noah Hutchins, the smoking-hot, girl-using loner in the black leather jacket, explodes into her life with his tough attitude and surprising understanding, Echo's world shifts in ways she could never have imagined. They should have nothing in common. And with the secrets they both keep, being together is pretty much impossible.Yet the crazy attraction between them refuses to go away. And Echo has to ask herself just how far they can push the limits and what she'll risk for the one guy who might teach her how to love again..