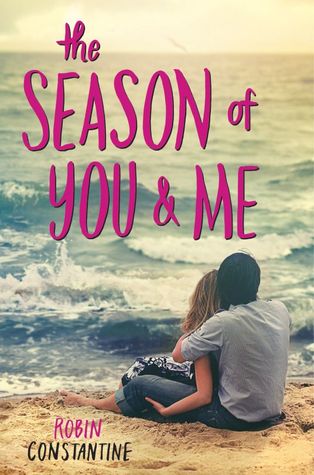 The Season of You and Me
By Robin Constantine
My Rating: 5 Stars
Date Read: May 2016
Publication Date: May 10th 2016
Hardcover, 352 pages
Summary From Goodreads:
Cassidy Emmerich is determined to make this summer—the last before her boyfriend heads off to college—unforgettable. What she doesn't count on is her boyfriend breaking up with her. Now, instead of being poolside with him, Cass is over a hundred miles away, spending the summer with her estranged father and his family at their bed-and-breakfast at the Jersey Shore and working as the newest counselor at Camp Manatee.

Bryan Lakewood is sick of nevers. You'll never walk. You'll never surf. You'll never slow dance with your date at prom. One miscalculated step and Bryan's life changed forever—now he's paralyzed and needs to use a wheelchair. This is the first summer he's back at his former position at Camp Manatee and ready to reclaim some of his independence, in spite of those who question if he's up for the job.

Cass is expecting two months dealing with heartbreak.
Bryan is expecting a summer of tough adjustments.
Neither of them is expecting to fall in love.
My Review:
I've been having a tendency to fall into book reading slumps lately... And it kinda, sorta, really sucks. I'll pick up a book, read a few pages, then put it down and walk away from it. But when I picked this one up, I finished it in one sitting! It was glorious!
I thought the idea of this story was pretty interesting. It was new to me because I'd never read anything similar. I was a little bit hesitant, because I was having horrible thoughts like: WHAT IF THIS IS LIKE ME BEFORE YOU?!?! I CAN'T HANDLE THAT KIND OF HEARTBREAK!! I know, I
know
, I was just being over dramatic. There was nothing to worry about, this book was perfectly adorable.
I love, love, loved Bryan. He was just so sweet, and he didn't spend
too
much time feeling sorry for himself...
I liked Cassidy, too... But I found myself getting annoyed with her quite a bit because she was just
so
obsessed with her ex-boyfriend, Gavin. I mean, even when she knew she liked Bryan, she couldn't stop thinking about Gavin. I just wanted to shake her and yell "NO! You like Bryan, you go be with BRYAN! Gavin is a jerk face butt monkey, and you need to stay away from him." There was also a time that she handled something very poorly, and it made me cringe:
SPOILERS AHEAD
That was the time that she was going on a date with Bryan, and Gavin showed up, and she introduced Bryan as her ride... she could have at least introduced him as her friend.. I'm cringing just thinking about that.
END OF SPOILERS
Anywho, this book has some of the best relationships I've seen in a while. I loved Cass and Bryan together. Their relationship was super believable and adorable, and AGH! I just love them together.
The relationship she had with her family was great, they were always there to support each other. Even her mom and dad got along okay, even though they were divorced. And I especially loved her relationship with her half brother Hunter. He adored her, and I'm pretty sure that the feeling was mutual.
And her relationship with her friends-old and new. It was always entertaining.
I loved the descriptions of the beach, and the bed and breakfast... ah... I wanted to be there, I felt like I
was
there. It was so beautiful.
I was a bit unsure of the whole #wheelchairperk thing at first... but then I realized that my friends and I are always putting hashtags in front of things just to be silly. But I noticed that quite a few people were really annoyed at the fact that it was in there like that.
For some reason, the song that popped into my head while I was reading this book was Somewhere in My Car by Keith Urban... Don't know why, it doesn't really have anything to do with the book, but that's the song that I thought of while I was reading it. Check it out below, and let me know what you think: