The Raven Boys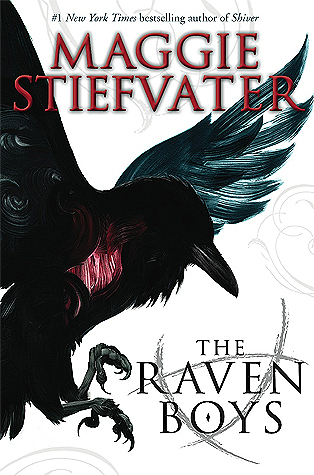 By Maggie Stiefvater
My Rating: 4 Stars
Publication Date: September 18th, 2012
Hardcover, 416 Pages



Summary From Goodreads:
"There are only two reasons a non-seer would see a spirit on St. Mark's Eve," Neeve said. "Either you're his true love . . . or you killed him."

It is freezing in the churchyard, even before the dead arrive.

Every year, Blue Sargent stands next to her clairvoyant mother as the soon-to-be dead walk past. Blue herself never sees them—not until this year, when a boy emerges from the dark and speaks directly to her.

His name is Gansey, and Blue soon discovers that he is a rich student at Aglionby, the local private school. Blue has a policy of staying away from Aglionby boys. Known as Raven Boys, they can only mean trouble.

But Blue is drawn to Gansey, in a way she can't entirely explain. He has it all—family money, good looks, devoted friends—but he's looking for much more than that. He is on a quest that has encompassed three other Raven Boys: Adam, the scholarship student who resents all the privilege around him; Ronan, the fierce soul who ranges from anger to despair; and Noah, the taciturn watcher of the four, who notices many things but says very little.

For as long as she can remember, Blue has been warned that she will cause her true love to die. She never thought this would be a problem. But now, as her life becomes caught up in the strange and sinister world of the Raven Boys, she's not so sure anymore.

From Maggie Stiefvater, the bestselling and acclaimed author of the Shiver trilogy and The Scorpio Races, comes a spellbinding new series where the inevitability of death and the nature of love lead us to a place we've never been before.
My Review:
I tried to read this book so many times when it first came out, because I loved Steifvater's Wolves of Mercy Falls series, as well as the Books of Faerie series. But no matter how hard I tried, I just could NOT make it through more than a couple of pages. Nothing about it seemed to capture my interest long enough for me to really get into it. So I stopped. I put the book down and I walked away from it.
I kind of forgot about it for a little bit, but then all of a sudden I kept hearing about it again. Some of my friends and coworkers read it and liked it, there were a bunch of reviews for it that kept running through my news feed on Goodreads, and from Blogs that I follow. And then a patron that I was helping one night highly recommended it. So I was like, okay. With all of the hype going around about this book, I need to give it at least one more chance.
So I checked out the actual book along with the audio version of it, and went on my merry way. I made it all the way through this time, and I was happily surprised at how much I ended up enjoying it. Though I am going to accredit that to the audio book, which, if you know me is a BIG deal. I can count on one hand the number of audio books I've listened to.
I liked the characters, and how quirky they all were. Blue was so funny, and so true to herself throughout the whole book. She was awkward and quirky, and that made me love her all the more.
I liked the relationship she had with all the boys, and the close friendship all the boys shared with each other, though sometimes some of the things they said and did, made me cock my head to the side and go "ohhkaaayyy...?"
Gansey: Was so charming and hilarious, and sometimes came off as being spoiled and pompous, even though he didn't mean to. He said things without thinking about how they sounded to other people, but he's actually the sweetest guy and beats himself up when he unintentionally sounds like a jerk. He actually thinks a lot about other people, and his heart is in a good place.
Ronan: Came off as being a class-A JERK, but I still love him. I know there's a reason for why he's that way, and I can't bring myself to think anything bad about him. He's loyal to his friends and family (well...) and he'd do pretty much anything for them (Okay, with the exception of maybe one person)
Noah: Oh, my Lanta, Noah. He's the most adorable, and the sweetest. I just want to hug him all the time. I can't really say too much more without getting all spoilery (just in case there are other people like me who have yet to read this book) but yeah, I just wanna hug Noah.
Adam: Oh Adam. He was probably my faaaavorite Raven Boy. He tried so hard to prove that he fit in with the others even though he never believes that he does. Even though Gansey and Noah and Ronan would all do anything for him. He has a hard time believing that he is worthy of anything good, but at the same time that's all he works so hard for. He wants to be accepted. He wants to fit in. He was probably the most unsure character, in my opinion. And that made him more lovable.
This book switched back and forth between a few different characters, which was nice, because you got to see a little more of what was going on in their heads. But at the same time it has the ability to be a little confusing if you forget which character it is who is narrating.
It was pretty slooooow paced, which at times was okay, because of all of the details and information getting thrown at you. It was easier to digest, so to speak. You got a chance to think about what you learned, and process what that meant for the characters.
And then the one thing that I liked the least was the romance/no romance thing. One of the things that I was expecting from it was some kind of romance, especially since Blue kept talking about how she was destined to kill her true love. I kind of took that to mean that there would be at least a little bit of romance. Flirty scenes. Things that put them into awkwardly romantic situations. I don't know. More than just thinking about it all the time. But that's my opinion.
I still don't think I would have been able to make it through the whole thing without the help of the audiobook, but I do think I will continue on with the next book in the series, because I am curious to see what happens next.